resorts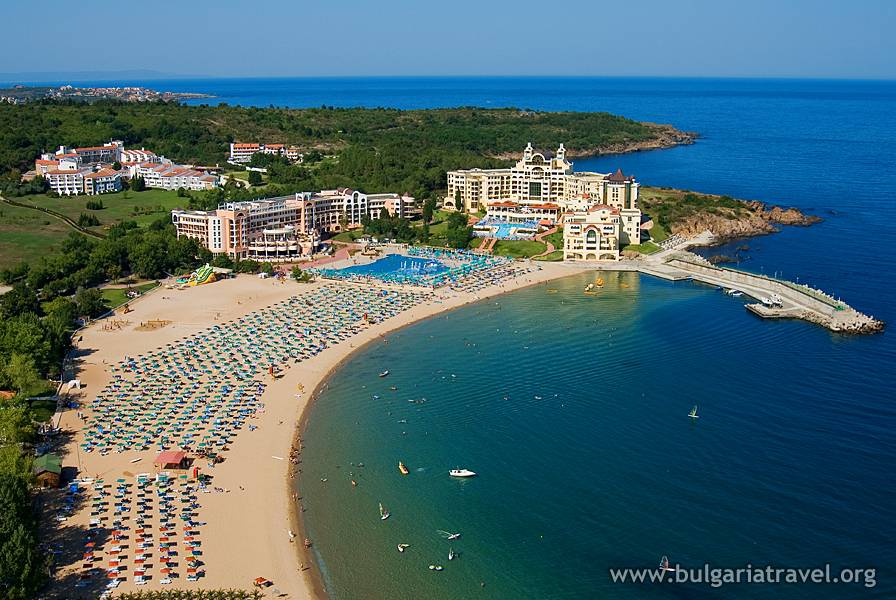 There are many resorts in Bulgaria, and they are exceptionally diverse. The following resorts are located along the Black Sea: Rusalka, Albena, Kranevo, Golden Sands, Riviera, Chayka, Sunny Day, St. Konstantin and St. Helena, St. Iliya, Obzor, Sunny Beach, Elenite, Dyuni, Nesebar, Ravda, Kiten, Pomorie, Primorsko, Chernomorets, Sozopol, Lozenets, Tsarevo, Ahtopol and Sinemorets.
The holiday settlement Rusalka began as a member of the French resort corporation Club Med (Club Méditerranée). It is located in the natural park Tauk Liman.
In Albena, tourists can enjoy beaches that are more than five kilometers long and an average water temperature of 24 ˚С during the summer.
The Golden Sands beach is 3.3-kilometers and up to 100 meters wide, with an average water temperature of 24 ˚С during the summer and an average summer air temperature of 27 ˚С.
The holiday club Riviera possesses a wonderful beach and is located in a park with centuries- old trees.
Saints Konstantin and Helena and Sunny Day are resorts distinguished by their mild climate and tranquility.
The largest of the Bulgarian Black Sea resorts is Sunny Beach. It has a beach that is 5.5 kilometers long and an average water temperature during the summer of 26 ˚С. The resort's average summer air temperature is 28 ˚С. The resort of Saint Vlas is located nearby.
Villas built in the Mediterranean style villas predominate in the resort Elenite, and the resort of Dyuni is located amidst a pine forest overlooking the sea.
Many hotels at the Black Sea resorts work all year long and provide facilities for conventions and congresses. The Black Sea beaches are divided into large (over 100,000 square meters) – those at Durankulak, Albena-Kranevo, Golden Sands, Kamchia-Shkorpilovtsi, Obzor, Sunny Beach, Pomorie, Atanasovo, Alepu, Primorsko south beach; medium-sized (from 50,000 to 100,000 square meters) – those at Krapets, Shabla, St. Konstantin, the Varna city beach, Asparuhovo, Shorpilovtsi-south, Obzor-south, Irakli, Burgas, Kavatsi, Stomoplo, Nestinarka, Ahtopol, among others; and small (from 10,000 to 50,000 square meters) – those located mainly along the southern Black Sea coast.
The Black Sea coast is also famous for its medicinal mud deposits, which are to be found at Pomorie, Varna, Balchik, Shabla, Atanasovsko Lake, and Taukliman. Also famous are the mineral waters at Krapets, Tyulenovo, Rusalka, Kavarna, Balchik, Albena, Golden Sands, St. Konstantin and St. Helena, Varna, Lower Kamchia, Emine, Medovo and Burgas.
The mountain resorts Pamporovo, Borovets and Bansko have gained an international reputation. Pamporovo is located at 1,650 meters above sea level in the Rhodope Mountains. Snow falls on average more than 150 a year, and the runs are from 800 to 3,800 meter long. Borovets is located in the Rila Mountains, at 1,350 meters above sea level. It offers excellent ski runs, and its biathlon course is one of the best in the world. The fastest developing mountain resort in Europe is Bansko. Besides offering world-class skiing, in the city of Bansko there are also more than 140 cultural monuments. Bansko is also the home of an acclaimed school of icon painting. There are also good conditions for skiing at the following resorts: Malyovitsa, Panichishte, Batak, Beklemeto, Ribaritsa, Osogovo, Momchilovtsi, Chepelare, Kom-Berkovitsa, Uzana, Yundola, Belmeken, Bodrost-Kartala, Predel, Semkovo and Aleko.
Bulgaria also has a number of excellent spa, balneological and wellness resorts: Hisar, Velingrad (the spa capital of the Balkan Peninsula), Sandanski, Banya, Kyustendil, Narechen, Pavel Banya, Kostenets, Varshets, Burgaski Mineralni Bani, Momin Prohod, Slivenski Mineralni Bani, Starozagorski Mineralni Bani, Haskovski Mineralni Bani, Sapareva Banya, Teteven, Tryavna, Apriltsi, Kotel, Elena, Govedartsi, and Dryanovo.