balneology,spa and wellness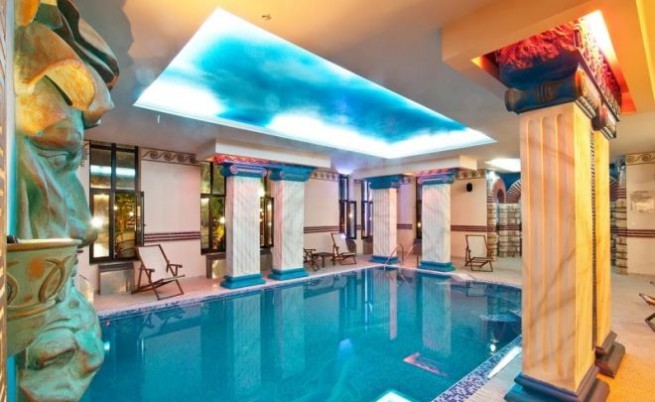 The healing power of mineral springs has been recognized since the time of the Thracians, who were renowned as healers. "The Holy Springs of Thrace" were famous throughout the Roman Empire. Few countries in Europe can rival Bulgaria's spa, balneological and wellness tourism, with its abundance and diversity of thermal mineral waters and curative mud deposits. There are more than 550 known sources with 1,600 springs that have a total capacity of 4,900 per second. Predominant are waters with low mineral content – 66.7% of the springs, as opposed to 14.4% with higher mineral content and 17.9% that are naturally carbonated. Cool mineral springs are found throughout the country - Narechen (Asenovgrad region), Shipkovo (Troyan region), Ovcha Kupel (Sofia), Smochan, (Lovech region), Voneshta Voda (Gabrovo region), Merichleri (Simeonovgrad region), and elsewhere. The spring with the highest temperature is Sapareva Banya (103ºС), also the only geyser in Bulgaria and Continental Europe. The most famous thermal springs in the Balkan Mountains are in the regions of Varshets, Barziya, Lakatnik, Opletnya; on the Sofia plain – Bankya, Gorna Banya, Knyazhevo, Ovcha Kupel, Sofia, Pancharevo; in the Srednogorie - Strelcha (40°С), Hisarya (49.5°С), Banya (51.1°С), Pavel Banya (54.6°С), Starozagorski Bani (45.8°С); along the valley of Struma River – Blagoevgrad, Simitli, Sandanski, Levunovo and Marikostinovo; along the valley of Mesta River – Banya (56оС), Dobrinishte (43°С) and the village of Eleshnitsa (56°С); in the Rhodope Mountains – Devin, Velingrad, Banite.
Most widespread in Bulgaria are the nitrogen thermal waters, found in the springs around Sapareva Banua, Simitli, Narechen, Momin Prohod, and elsewhere. Carbon acid is contained in the waters of the springs near Mihalkovo, Slivenski Mineralni Bani, Stefan Karadzhovo; hydrogen sulphide is contained in the thermal waters in the Sofia lowlands. Half of the thermal waters contain increased radioactivity, showing levels higher than 15 eman/l, such as the Klisura spring (200 eman/l) and the Strelcha spring (250 eman/l), among others. Particularly high radioactivity has been registered in the springs of Momina Banya (560 eman/l) and the Narechen springs (1,300 eman/l).
Bulgaria also possesses valuable deposits of curative firth mud and curative peat. Curative mud deposits are located in the regions of Shabla Tuzla, Tuzlata, Varna Lake, Pomorie, Atanasovsko Lake and Mandra Dam; peat deposits are located near Batak Dam (Rhodope Mountain), the village of Baykalsko (Konyavska Mountain), the town of Straldzha (middle Tundzha river valley), Varna Lake, and the village of Sadovo (Gornotrakiyska Lowland). Spring deposits containing curative mud are found around the village of Marikostinovo (Sandanski-Petrich valley) and the town of Banya (Karlovo valley), and there are artificial peloids around Ovcha Kupel (Sofia City), Velingrad, Asenovgrad, Slivenski Bani, Starozagorski Bani, Haskovski Bani, Sapareva Banya, Blagoevgrad, Hisarya, Pavel Banya, Burgas, Pomorie, Primorsko, the resort complexes of Albena and Sunny Beach, and elsewhere.
The climate in the country is exceptionally favorable compared to that of traditional destinations for balneology tourism in Western Europe and the Mediterranean. Roughly 20% of each year is sunny, which is more than in Northern, Northwestern and Central Europe. There are 30% fewer cloudy days along the Black Sea coast than along the Atlantic coast or in some parts of the Mediterranean. During the spring and summer months, rainfalls are lower in Bulgaria than in most of Europe.
Mineral springs located in the southern part of the country are influenced by the Mediterranean climate; other springs are found in mountain regions with coniferous vegetation and crystal springs; and still others are along the Black Sea coast. This, together with the great diversity of herbs and other flora used for aroma therapy and phytotherapy, provides opportunities for beneficial year-round treatment and prophylaxis of a range of ailments, and it also creates excellent conditions for relaxation.
The Republic of Bulgaria has 48 mountain resorts, 15 marine resorts, and 38 balneological resorts. The most famous balneological, climatic and mud curative Black Sea resorts are the resort complexes of Albena, Golden Sands, St. Konstantin and Helena, Sunny Day, Sunny Beach, Riviera, Balchik, Tuzlata, Varna Mud Curative Baths (Varnenski Kalolechebni Bani), Pomorie, Primorsko, Kiten, Sozopol, Ahtopol, among others. The most famous resorts located in thecountry's foothills and mountains are Hisar, Velingrad (the spa capital of the Balkan Peninsula), Sandanski, Bankya, Kyustendil, Narechen, Pavel Banya, Kostenets, Varshets, Burgaski Mineralni Bani, Momin Prohod, Slivenski Mineralni Bani, Slivenski Mineralni Bani, Starozagorski Mineralni Bani, Haskovski Mineralni Bani, Sapareva Banya, Banya, Pamporovo, Borovets, Teteven, Tryavna, Apriltsi, Kotel, Elena, Govedartsi, Dryanovo, among others.
The country is also known for its highly qualified personnel, excellent accommodations, and diverse programs and services that include massage, baths with mineral water, pearl baths, reflex therapy, traditional needle therapy, medicinal exercises, acupuncture, laser therapy, acupressure, paraffin treatment, apitherapy, phytotherapy, mud treatment, aroma therapy, anti-stress programs, dieting programs and programs for losing weight, balneo-cosmetics, sauna, solarium, fitness, and medical cosmetics. All of this can be combined with various tourism programs, allowing visitors to explore Bulgaria's cultural heritage, folkways, and traditional cuisine.